Check out the latest news:

October Newsletter is Out Now!
Updated 10/27/2020
The season is changing and so is our leadership!
Read more about the new leadership changes, voting and the National Tourney leadership opportunities in our monthly newsletter.
---
Voting Dates in Ohio
Updated 10/27/2020
Don't forget that the early voting period runs to Monday, November 2, with Election Day being Tuesday, November 3. Check your local polling station for their hours of operation!
Equality Ohio has posted their 2020 Elected Official Scorecard on LGBTQ+ Voting Awareness, and you can view it using this link.
---
Bi Visibility Day Virtual Panel Discussion
Updated 10/27/2020
Bi Visibility Day, or bisexual awareness Day, was Wednesday, September 23. Stonewall Sports - Columbus hosted a panel discussion to have a conversation around biphoba, bisexual erasure and more.

This virtual event was moderated by Patrick Deering and featured panelists Bhumika Patel, Alexa Hanna and Roberto Rodriguez.
The link to the recording can be found here.
---
Updated 8/18/2020

Fall 2019 Kickball quickly became one of our most beloved sports seasons. With many new players to the league, and lots of social engagement, it set a high standard for future fall seasons to be just as successful.

COVID-19 has made league leadership make some tough decisions, but our top priority will always be for the safety and well-being of our players, volunteers and spectators. It is with heavy hearts that Stonewall Sports - Columbus leadership has decided to cancel all remaining 2020 sports due to the ongoing pandemic.

We held out hope that our Fall 2020 Kickball season may have been able to occur, but another key point in our decision was because we are a social sports league. Current mandates and safety guidelines refer to limit or eliminate social gatherings. Things like team meet-ups in the parking lot, or even team/player interactions on and off the field would be difficult to monitor and control and could pose a health risk. It's difficult to build a well-connected and diverse community when we need to limit these social interactions.

We do not know what the future looks like moving forward, but league leadership will continue to plan for 2021 and start our sports leagues when it is safe to do so.

Thank you for understanding and being part of our the Stonewall Sports family.

-Stonewall Sports - Columbus Board of Directors
Read more about league updates here.
---
Black Lives Matter - Statement
Updated 6/02/2020
Dear Stonewall Sports - Columbus Community:
Over the past few days, we have witnessed protests rise all across the United States following the senseless and brutal murders of George Floyd, Ahmaud Arbery, Breonna Taylor, Philando Castile and countless others. Stonewall Sports - Columbus stands in solidarity with our Black and Brown community members and players against the inequitable treatment of black folx due to decades of institutional and systemic racism.
The pain from this past week serves as a constant reminder of how far we have yet to go. In pursuit of racial equality and justice for communities of color, and specifically the Black community, we have added our organization to the LGBTQ Organizations Unite to Combat Racial Violence list, and affirm last night's passed resolution from Columbus City Council declaring racism as a public health crisis in Columbus.
Together, as a nation and within the LGBTQIA+ community, it is time for us to be vehemently anti-racist in our actions and support and uplift our Black community members. We encourage you to read the Stonewall Sports National Board's statement released yesterday regarding current events. Additionally, we're sharing the following list of resources created by activists to deepen our anti-racism work.
To our Black players and community members,
We see you.
We hear you.
We love you.
We stand with you.
-Stonewall Sports - Columbus Board of Directors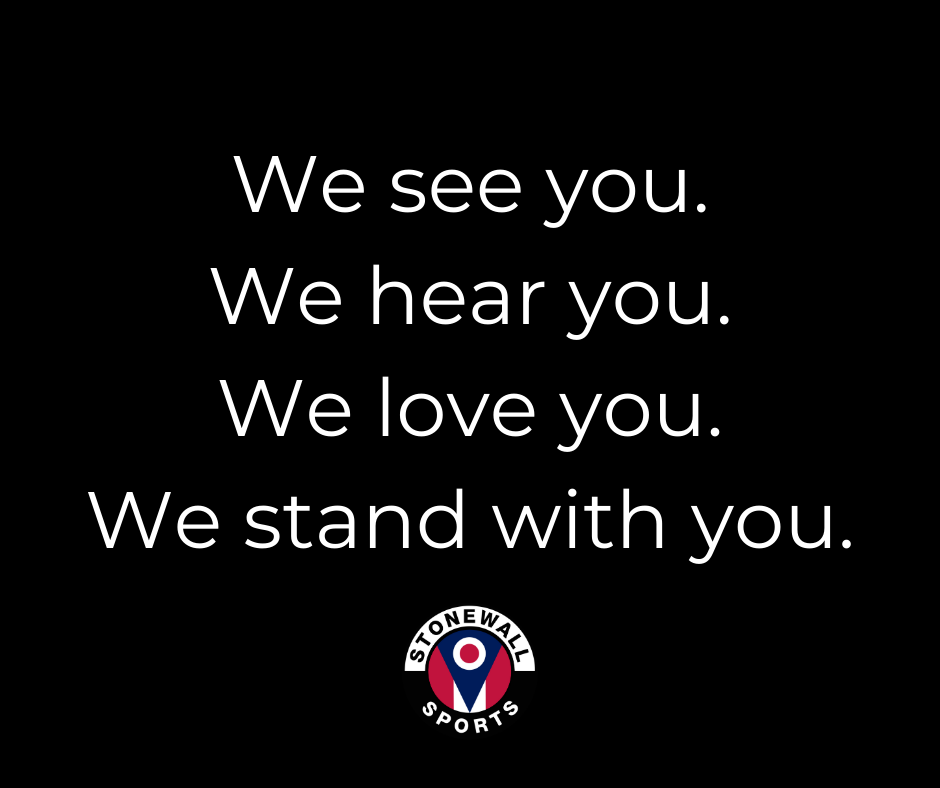 ---
2019 Annual Report
Updated 11/27/19
What an incredible year we've had. We've compiled all our accomplishments together in an annual report with a breakdown of our different leagues, demographics of players, annual financials and more. Read the full report here.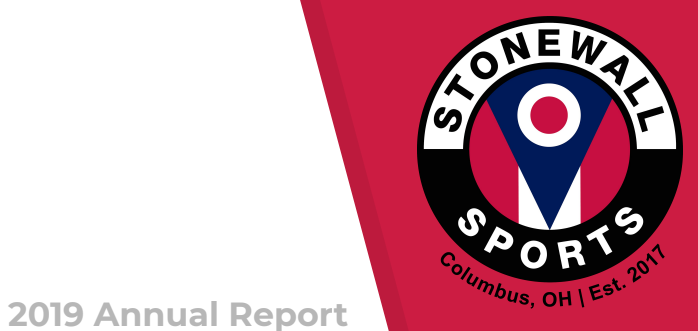 ---